Ready to dive into your project
Video production and content development services
Our approach is simple: Your project is important to YOU, which makes it important to US. We're ready to jump right in, working as an extension of your team, getting up to speed quickly and plugging in seamlessly. You can feel confident in our experience, attention to detail and commitment to getting the job done right and on time.
Relax, we've got this.
Watch this video to learn more about what we do and how we do it.

Looking for experienced content and video services?
Video Production
Media that makes a lasting impression
Writing & Content Development
Writing that builds your foundation in the marketplace
"If you ever need help producing compelling video media, you should go straight to Fisher Productions in Indianapolis. They are the best!"
– Ellen Jackson, Executive Director, Last Bell Ministries
"Cory and Becky are detail-oriented, creative and reliable. And most of all: We love working with them."
– Dave Meyer, Producer and Owner, Fabulist Connection Media
"In our business, responsiveness and a positive, can-do attitude are invaluable, and those qualities are what I experience daily working with Cory and Becky."
– Debbie Reeves, Producer
"Becky is detailed, precise and professional. We always look forward to collaborating with Fisher Productions."
– Justin Shimp and Jessica Dunn, Owners & Designers, BrainTwins
"Fisher Productions did an amazing job distilling the spirit and mission of our program into relevant and engaging videos. They delivered ahead of schedule and exceeded expectations every step of the way!"
– Dr. Elizabeth Weinstein, Director, Indiana Emergency Medical Services for Children
"Becky helped us during a critical time in Sells Group's growth as a company. Becky took to the contract position of managing our content with grace and fire, hitting the ground running and executing tasks efficiently."
– Matt Roberts, Vice President of Client Services, Sells Group
"From the scripting process to on-location shoots and all the way through post production, Fisher Productions creates videos that we are proud of and our clients love."
– Walter Botich, Co-Founder & Director of Development, 77media LLC
"These guys just 'get it' on so many levels. Do yourself a favor, and never hire a writer who would write 'Do yourself a favor.' Instead, hire Fisher Productions."
– John Pinella, Director/Cinematographer
"It was an absolute pleasure to work with Fisher Productions. In addition to their professionalism and responsiveness throughout the process, their suggestions and creativity were invaluable!"
– Rebecca Aurora, Head Witch, 2017 Children's Museum Guild Haunted House
"Beyond reliable, Cory and Becky are professionals with the highest integrity. Working with high-profile clients and sensitive content? Say no more."
– Viki Anderson, Consultant and Creative Developer
About us
Married to our work. (In a good way.)
Fisher Productions is a partnership between Becky Fisher (writer/producer) and Cory Fisher (editor/producer). Our complementary skills have made us effective partners in business (and life).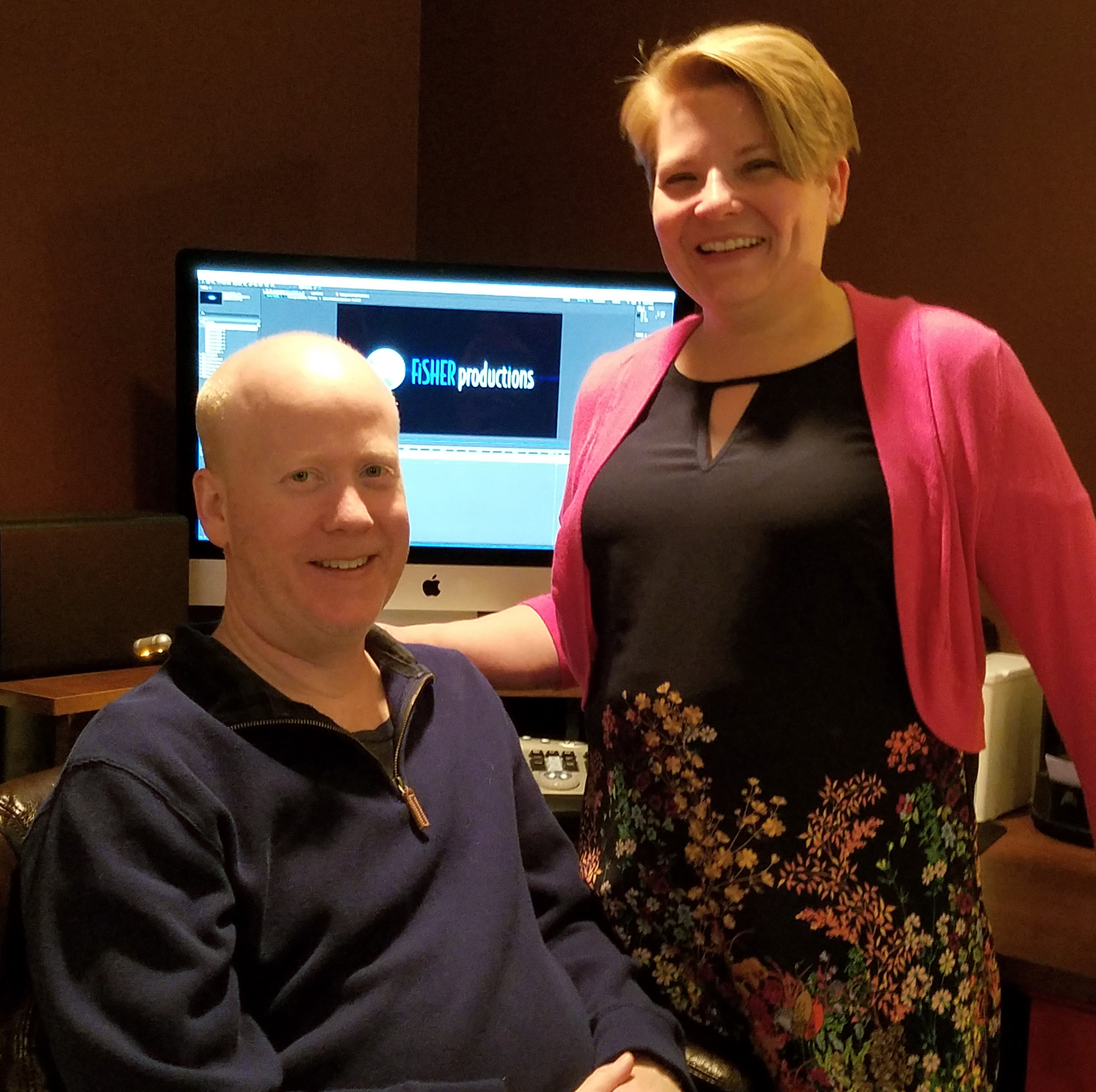 CONTACT US
Have a project? Have a question?
Drop us a line to learn more about what we can do for your organization, or call us at (317) 650-4953.